By Alyssa Chavez
Journalism 2 
At Heritage Academy Laveen, scholar holiday celebrations are as diverse as our student body.
In December, there is Christmas, Hanukkah and Kwanzaa and, of course, New Year's Eve and Day.
"For the holidays, my family and I like to invite all of our friends and family to our house on New Year's Eve and my mom makes tons of hot chocolate and cookies," said Chloe Henwood, 9th grade. "We also make plates of cookies and take them to our neighbors. At the end of the night we take our Christmas tree and burn it in our backyard while we play music and enjoy our treats. It smolders until the next morning and smells really good."
Although Christmas is very commonly known, it's not the only holiday celebrated this month. There is also Hanukkah, a Jewish festival commemorating the recovery of Jerusalem and subsequent rededication of the Second Temple at the beginning of the Maccabean revolt against the Seleucid Empire in the 2nd century BCE. It is also known as the Festival of Lights. This year, Hanukkah began on the evening of Sunday, November 28th and ends Monda,y December 6th.
Hanukkah is celebrated in several ways. In addition to lighting one candle each day on the menorah (an eight-pronged candlestick), religious rituals can include daily reading of Scripture, recitation of some of the Psalms, almsgiving, and singing of a special hymn.
Another holiday that is celebrated in winter is Kwanzaa. While Kwanzaa occurs around the time of other festive holidays such as Christmas and Hanukkah, it isn't associated with a religion. Kwanzaa is an annual celebration of African-American culture that is held from December 26 to January 1, culminating in a communal feast called Karamu, usually held on the 6th day of the holiday. Families that celebrate Kwanzaa do so in different ways. However, festivities usually involve dancing, singing, gifts and a large feast. Those observing the festival will often decorate their houses with fruits, a black, red and green flag, and a Kinara – a candle holder that holds seven candles.
Many HAL scholars incorporate their cultural backgrounds into their holiday celebrations.
Natalie Smith, 11th, has a traditional German-American celebration with 8-10 family members.
"My grandpa starts with making my Oma's sauerbraten recipe. Sauerbraten is basically sour (marinated) roast meat. Afterwards, we all sit at the table to make Knodel, which is basically bread, egg, milk, and salt mixed together and put in the oven. There are no actual measurements. It's just thrown together and mixed.
"We have been doing this for as long as I can remember. After dinner we go out and look at the different Christmas decorations people have set out. When we return to the house we open presents from my grandparents and extended family in Tokyo. On Christmas day we just don't celebrate Christmas, we also celebrate my dad's birthday. We open Christmas presents in the morning and then after dinner we pull out a birthday cake for my dad and he opens his birthday presents."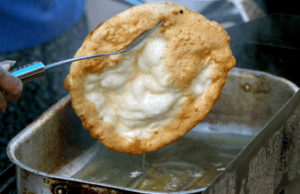 For Tyese Maldonado, 10th grader, Christmas time is also family time. And that means travel to New Mexico for a Navajo-style holiday.
"We eat traditional foods from New Mexico," she said. "Mutton, spam, potatoes — and the kids make fry bread."
Melanie Zavala, 9th grader, and about 10 family members from Phoenix typically drive over to Santa Ana, California, to visit relatives for a Mexico-style Christmas holiday. Her family has a nacimiento – nativity — set up and on Christmas, her grandmother lays a special lifelike baby Jesus made of glass in the manger. Her grandmother brought the glass baby Jesus all the way from Mexico when she moved to Santa Ana.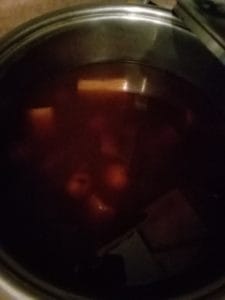 Melanie's favorite holiday foods are pork tamales and a beverage called ponche – hot fruit punch.
Here is a recipe:
Traditional Mexican Ponche
4 quarts of water 1 gallon
1 large piloncillo cone (or 12 oz. of brown sugar)
3 cinnamon sticks
1 pound of tejocotes
1½ pounds of guavas
¾ cup chopped prunes
1½ cup chopped apples
1 cup chopped pears
½ cup raisins
3 sugar cane sticks, about 5-in. long cut into four pieces each
1 cup of peeled tamarind pods
Feel free to substitute other fresh and dried fruits if some are unavailable.
In a large stock pot, combine the water, piloncillo sugar (or brown sugar) and cinnamon sticks and heat for 15 minutes to a near boil. Add remaining ingredients and simmer for an hour. Serve in mugs with a cinnamon stick.