Dates to Remember
Nov. 14, 7 PM—PTO Meeting
Nov. 18—Wyotech Lunch and Learn
Nov. 19th—Phoenix College visit
Nov. 20—Basketball Pictures
Nov. 21—Winter Sports Pictures
Nov. 21—Dollars for Duds
Nov. 22-23—High School Play, The Mouse that Roared
Nov. 27-28—Thanksgiving Break
Dec. 6—GCU Field Trip
Dec. 6—Band/Choir Concert
Dec. 7—Santa Drop Community Event
Dec. 10—Night of Treteau
Dec. 12, 7 PM—PTO Meeting
Dec. 13—Senior Picture Retakes
Dec. 14—Dance Performance
Dec. 16-19—Finals Week
Dec. 19—Last Day of Semester 1
Dec. 23-Jan.2—Christmas Break
Jan. 6—Semester 2 begins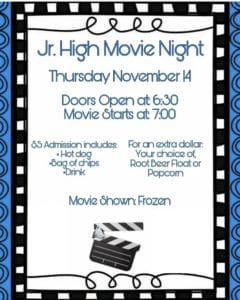 Senior Picture Retakes Dec. 13th
Last Chance!
If a senior misses this date for picture retakes they are required to obtain their own professional picture and submit it to the yearbook.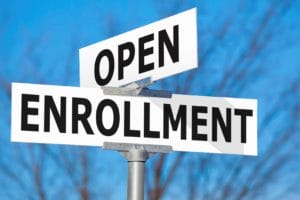 Open Enrollment is NOW until January 31st!
Go to our website at halaveen.com to enroll for the 2020-21 school year.
January 8-11
Come participate in drumline, orchestra, show choir, ballroom, yearbook, Disney choir, drama, slam poetry or dance!
See Ms. Romito for details.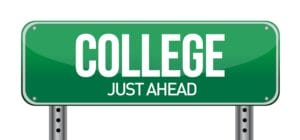 Click here for a helpful resource when scheduling testing dates for your college applications.
Important Dates:
December 7th, SAT
deadline to register is 11/8
late registration deadline is 1 1/26
December 14th, ACT
deadline to register is 11/8
late registration deadline is 11/22
Mr. Herrera will be working closely with your family this year to assist your senior with post-graduation goals. Schedule your Senior Meeting now by clicking here.
Juniors and Seniors will have a Lunch and Learn in the music room on November 18th where Wyotech will be presenting their offered programs.
GRAND CANYON UNIVERSITY FIELD TRIP
December 6th – Bus leaves at 8AM – (you will be back to school by no later than 1:30 pm)
To RSVP- Please return your permission slips to Mr. Herrera by no later than Friday, November 29th.
Nov. 19th Phoenix College will have a table during lunch to go over the programs the school offers such as dental, medical assisting, and phlebotomy.
A New Start to College-University of Arizona New Start Program:
https://mail.google.com/mail/u/0?ui=2&ik=76fde58933&attid=0.1&permmsgid=msg-f:1649651231082171097&th=16e4bd0deff04ad9&view=att&disp=inline
I wanted to highlight a new program that will be amazing for seniors who are coming to the University of Arizona. New Start is an awesome six week program that we offer students who need a little extra help before school starts. It is a program dedicated to helping students with their academics, studying habits, and social engagement before college begins in the Fall. Students will also earn college credit before school even starts which will be applicable to their major.
The best part is that students who qualify for a summer pell grant, will have their tuition and housing covered for the program. This leaves the student left with having to pay for food, transportation(highly recommend not to bring a car unless the student absolutely has to) and books which we assure student it will cost under $100.
Among the numerous key benefits, participants will finish the program with:
Six to seven units of academic credit under your belt
A coordinated network of support from peer leaders, instructors, and full-time staff on campus
Working knowledge of how to navigate our beautiful campus
UA (UArizona) Engineering is Coming to Downtown Phoenix
UA Engineering is coming to Downtown Phoenix on November 18 @ 6pm! Learn more in depth about UA Engineering from current students and our Academic Dean. We've even prepared a young alumni panel with UA ENGR grads who now live and work in the PHX area! J
Students, parents and even teachers can RSVP directly through the link below as well as through the link below.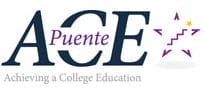 ACE Puente is Rio Salado College's scholarship program that assists at-risk high school students with getting a head start on college. ACE stands for Achieving a College Education and Puente stands for bridging high school students into college.
Come pick up your Applications at Mr. Herrera's Office. Deadline to turn the packets back in will be Nov. 20th.
ASU Barrett Scholarship: Scholarship applications available on Nov. 1 and close on Feb. 1.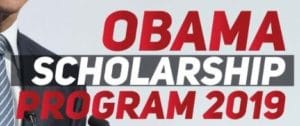 Obama Scholarship CLOSES January 1st!!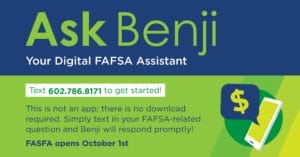 About Benji
  "Ask Benji" was created to help families make college more affordable.  
What is Benji?
Benji utilizes AI technology with its open bot platform to help students get answers to their FAFSA questions instantly- all they need to do is just "Ask Benji". Benji the chatbot has been programmed with more than 600 different types of responses to the questions students and parents may have while they are working through their FAFSA. As more Arizona students and parents use this service, Benji will learn and be able to respond to more questions and unique circumstances.
How Does Benji Work?
Benji is not an app, and there is no download required. To use, a student or parent simply starts a texting conversation with their cell phone on any texting platform. Once a person has texted Benji, it will respond to the dialogue with answers to questions or links to resources. Benji is not fluent in Spanish yet, but will be able to direct users to some Spanish language resources on FAFSA and financial aid. Benji will also capture data such as name, high school, and graduation year in order to send timely, relevant nudges to encourage users to complete the FAFSA.
Why Should You "Ask Benji"?
Benji provides immediate, expert FAFSA assistance to students and parents
Benji will remind parents and students about upcoming FAFSA events, priority deadlines, etc.
All questions sent to Benji are completely confidential
Benji is free to use
Why Was Benji Created?
"Ask Benji" was created to help families in the Phoenix, Arizona area apply for financial aid to support higher education. It is the result of a joint partnership between Achieve60AZ, the Arizona Commission for Postsecondary Education, College Success AZ, and Arizona State University. The goal: Help students and families complete the FAFSA as quickly and easily as possible.

SPEND YOUR SUMMER AS AN INTERN AT UNIVERSITY OF ARIZONA RESEARCH LAB  (Click Here for Flier)
The University of Arizona KEYS Research Internship Program is a unique opportunity for motivated Arizona high school students to spend their summer exploring real-world scientific research on the UA campus. Students enroll at the University and receive 3 units of Molecular and Cellular Biology. Students spend their summer working in the laboratory completing research projects. At the end of the program, students present their research at our very well attended Research Showcase. Applications are available now at https://keys.arizona.edu/.
The only program costs are for room and board for students from outside of Tucson. Financial aid is available on a need basis.
Contact the program at keys@bio5.org or (520) 626-8124.
Is trade school an option for you?
~Article:  After Decades of Pushing
Bachelor's Degrees, U.S. Needs
More Tradespeople
~Work Ethic Scholarship from
the Mike Rowe WORKS
Foundation
SUPPORT THE SCHOOL WHILE YOU SHOP!
Your grocery bill is going to go up around the holidays.  Make it go further by helping out the PTO.  Fry's will donate when you link your VIP card to their community rewards program and choose Heritage Academy Laveen PTO as the beneficiary!.  Check it out here.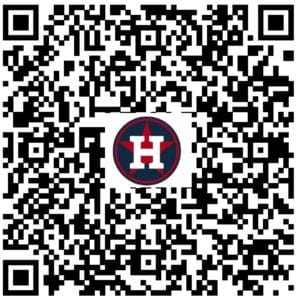 Use this QR code now to track your citizenship service hours!
Spanish/Science Tour
For:  Freshmen and sophomores in 2019-20
When:  Spring Break 2019
To:  Puerto Rico
Contact:  Mr. Halterman with questions at bhalterman@heritageacademyaz.com
For:  Performing arts scholars in grades 7-12
When:  January 2020
Where:  Tonto Rim Christian Camp near Payson, Arizona.
Speak to your performing arts department teacher for details.
France 2020
For:  High school students
When:  Spring 2020
Contact:  Mr. Arnold with questions at jarnold@heritageacademyaz.com
Southern Arizona
For:  Junior high school students
When:  April 22-23, 2020
Contact:  Mr. Nash with questions at jnash@heritageacademyaz.com.