Dates to Remember
Nov. 22-23—High School Play, The Mouse that Roared
Nov. 25—US Navy Lunch and Learn
Nov. 27-28—Thanksgiving Break
Dec. 3—Army National Guard on lunch
Dec. 4—South Mountain Community College Lunch and Learn
Dec. 6—GCU Field Trip
Dec. 6—Band/Choir Concert
Dec. 7—Santa Drop Community Event
Dec. 9th—Wyotech Lunch and Learn
Dec. 10th—US Marines Lunch and Learn
Dec. 10—Night of Treteau
Dec. 12, 7 PM—PTO Meeting
Dec. 13—Senior Picture Retakes
Dec. 14—Dance Performance
Dec. 16-19—Finals Week
Dec. 19—Last Day of Semester 1
Dec. 23-Jan.2—Christmas Break
Jan. 6—Semester 2 begins
High School Play
November 22-23, Kroc Center
Tickets at purplepass.com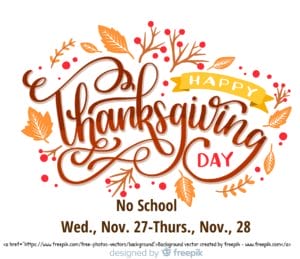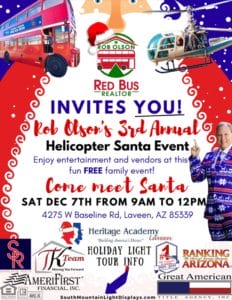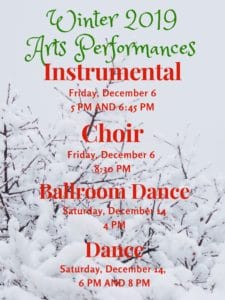 Senior Due Dates
December 11th, 2019Senior Quotes AND Baby Photos
December 13th, 2019Senior Portrait Retakes
February 22nd, 2020Senior Portraits/Photos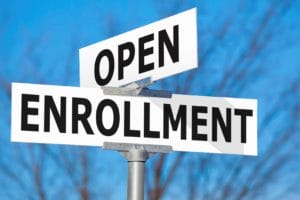 Open Enrollment is NOW until January 31st!
Go to our website at halaveen.com to enroll for the 2020-21 school year.
January 8-11
Come participate in drumline, orchestra, show choir, ballroom, yearbook, Disney choir, drama, slam poetry or dance!
See Ms. Romito for details.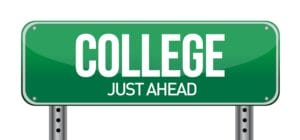 Click here for a helpful resource when scheduling testing dates for your college applications.
Important Dates:
December 7th, SAT
deadline to register is 11/8
late registration deadline is 1 1/26
December 14th, ACT
deadline to register is 11/8
late registration deadline is 11/22
Monday, November 25
Lunch and Learn with the US Navy
For Juniors and Seniors
Army National Guard visit during lunch
Tuesday, December 3
Wednesday, December 4th
South Mountain Community College
Lunch and Learn
Answering scholarship and FAFSA questions
Juniors and Seniors will have a Lunch and Learn in the music room on December 9th where Wyotech will be presenting their offered programs.
Tuesday, Dec. 10th
US Marine Corps
Lunch and Learn
For Juniors and Seniors
Mr. Herrera will be working closely with your family this year to assist your senior with post-graduation goals. Schedule your Senior Meeting now by clicking here.
GRAND CANYON UNIVERSITY FIELD TRIP
December 6th – Bus leaves at 8AM – (you will be back to school by no later than 1:30 pm)
To RSVP- Please return your permission slips to Mr. Herrera by no later than Friday, November 29th.
New for the Class of 2021
The College Board Opportunity Scholarships program opens in December juniors. Save the getting started steps below and schedule a kick-off activity before winter break.

Early efforts will get rewarded! Students who've already taken action to build their college list on BigFuture™ and link their College Board and Khan Academy® accounts to practice for the SAT® on Official SAT Practice will automatically earn a scholarship entry when they join the program once it opens next month.

Getting Your Juniors Started in December
| | |
| --- | --- |
| 1. | Students should join the program by signing in with their existing College Board account (same one they used for the SAT and PSAT/NMSQT®) or they can create an account if they don't have one. |
| 2. | They should click on the yellow Earn Scholarships button at the top of the homepage. |
| 3. | They should review the official rules on the Opt In screen and click Agree. Then they're ready to start turning their efforts into scholarships! |
Priority Action Steps for the Class of 2020
The College Board Opportunity Scholarships program will remain open to the class of 2020 through the end of February.
Complete the FAFSA: $1,000
Now Open for Seniors Through February
Students should complete the FAFSA® form to apply for financial aid. They must provide a screenshot of their FAFSA confirmation email if selected for the scholarship (undocumented and international students are exempt).
Apply to Colleges: $1,000
Now Open for Seniors Through February
Students should apply to at least two colleges they want to attend and submit the names of the colleges to earn an entry for the scholarship. Students may earn one additional entry for every additional college application after their first two, up to a maximum of six total applications.
ASU Barrett Scholarship: Scholarship applications available on Nov. 1 and close on Feb. 1.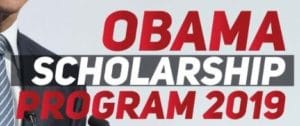 Obama Scholarship CLOSES January 1st!!
SUPPORT THE SCHOOL WHILE YOU SHOP!
Your grocery bill is going to go up around the holidays.  Make it go further by helping out the PTO.  Fry's will donate when you link your VIP card to their community rewards program and choose Heritage Academy Laveen PTO as the beneficiary!.  Check it out here.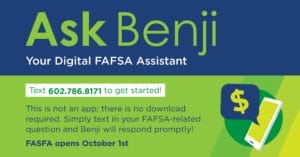 FASFA Questions?  Try:   https://www.askbenji.org/  Benji is your digital FAFSA assistant.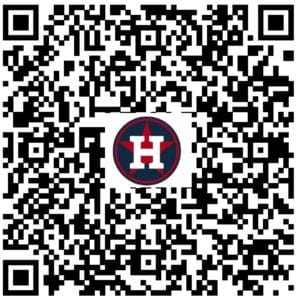 Use this QR code now to track your citizenship service hours!
Spanish/Science Tour
For:  Freshmen and sophomores in 2019-20
When:  Spring Break 2019
To:  Puerto Rico
Contact:  Mr. Halterman with questions at bhalterman@heritageacademyaz.com
For:  Performing arts scholars in grades 7-12
When:  January 2020
Where:  Tonto Rim Christian Camp near Payson, Arizona.
Speak to your performing arts department teacher for details.
France 2020
For:  High school students
When:  Spring 2020
Contact:  Mr. Arnold with questions at jarnold@heritageacademyaz.com
Southern Arizona
For:  Junior high school students
When:  April 22-23, 2020
Contact:  Mr. Nash with questions at jnash@heritageacademyaz.com.